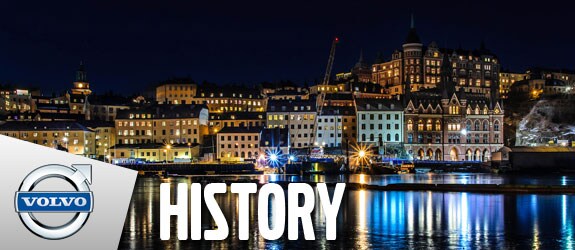 The Volvo Overseas Delivery Program
(OSD for short) was created over fifty years ago to meet the needs of American travelers to Europe, along with US military and diplomatic personnel who wished to have their new Volvo cars delivered throughout the world, as their individual work or travel plans dictated. The program is also known as Volvo Tourist & Diplomat Sales (TDS), Volvo European Delivery and Volvo Car International Customer Sales (VCICS).
Since the program started Volvo has delivered over 300,000 vehicles via Overseas Delivery. Collecting a   directly from Swedish carmaker Volvo at the factory is a unique way of buying a Volvo that has proved popular for customers such as diplomats, members of the US Armed Forces, and tourists from America. Volvo Cars sales company VCIC has over 50 years of successful business in overseas delivery.
Over 50 Years of Volvo Overseas Delivery
It all began when some people at Volvo became aware of the "love affair" between American diplomats, military personnel and tourists with Scandinavia. Goteborg, Sweden was home to an unknown carmaker and the company's attractive P120 (Amazon) model was proving a popular Swedish "souvenir" among foreign visitors.
The year was 1956 and Volvo was the first among its competitors to discover that it could sell cars profitably to international customers.
However, the company first had to solve the relevant customs clearance, tax and registration issues:

"The cars had to be driven to Norway or Denmark for registration, then back to Sweden for shipment," recalls Torben Eckardt, CEO of the VCIC (Volvo Cars International Customers) sales company.

Since then, the business has expanded at an increasing rate, with sales growing by 5-10 percent annually in recent years.
1927 saw the birth of the first Volvo. It also marked the first solo flight across the Atlantic Ocean when Swedish descendant Charles Lindbergh and his Spirit of St. Louis captured the imagination of America.  Now we would like you to imagine yourself on a flight (much more comfortable than the Spirit of St. Louis) to Europe to pick up your new car, compliments of Volvo.
View the Volvo Overseas Delivery Program brochure online.  Over the past fifty years, thousands of people have "Gone on a Journey for Life" and become Volvo owners.  Then take a a few moments to meet a few of these people and hear their stories in the Volvo Overseas Delivery Program video.