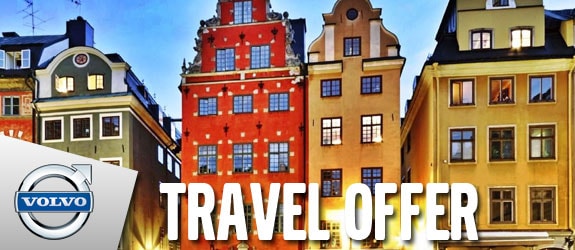 Purchase any new Volvo as part of the Volvo Overseas Delivery Program and you can purchase a unique European vacation and take delivery of a great European car at the same time. The only hard part is choosing where to go. 
Great Golf In Sweden
Take your Volvo on a unique 6-day tour around a selection of Scandinavia's favorite golf courses. Enjoy excellent hotels, beautiful scenery, the charm of some of Sweden's classic seaside resorts and first-class golf. Your tour includes the Masters course of Barsebäck, ranked by Jack Nicklaus as one of the best in Europe. Welcome to the drive of your life. 

Culture and History
A unique 7-day trip that includes scenic drives past Lake Fryken and the famous flower park at Rottneros Castle. After that, you'll visit Bergslagen, a region immersed in the Swedish iron industry. Finally, your vacation concludes with a stopover in Stockholm, so you can explore its museums, shops and culture.
Castles and Manor Houses
Immerse yourself in Swedish culture by embarking on a luxurious 4- or 7-day trip through some of Sweden's finest attractions, including 17th century manor houses and castles. This vacation also takes you to Sweden's lively capital, Stockholm, where you can shop, eat and enjoy Swedish nightlife.
Kingdom of Glass
Your 7-day adventure begins with a visit to the forests of Smaland ? an area of Sweden best known for its exhilarating glasswork. Along the way, you'll cross the Baltic Sea and arrive in Oland, a paradise for nature-lovers and bird-watchers. You'll even visit Astrid Lindgren's World, which is a theme park based on the children's books about Pippi Longstocking. Your trip concludes with two days of sightseeing in Stockholm.
Three Kingdoms
This 6- or 11-day expedition includes a scenic drive on the Royal Road to Oslo, which winds through the beautiful cultural landscape of the Middle Ages. As you cross into Norway, you'll enjoy the breathtaking views of towering mountains and majestic waterfalls. Once you arrive in Copenhagen, Denmark, you'll be able to explore world-famous art museums and sample some of the exquisite Danish cuisine. 
Family Fun In Sweden
You're off for five days of fun and excitement in child?friendly Sweden. Amusement parks, wildlife, castles, farms, dolphins, pony rides and history abound everywhere. Your family will enjoy, learn and remember it always. When you're done leave your Volvo with our dedicated retailer in Stockholm or drive back to Gothenburg depending on availability. You can fly back from either city.
Family Fun In Sweden and Denmark (5 Days)
You'll be enjoying Scandinavia's favorite family highlights including Legoland, a children's paradise. Not to mention exciting Copenhagen, a treat for every member of the family. After visiting the Danish capital you return to Sweden, either by ferry or by bridge to Malmö. You can stay the night at a hotel in Malmö or drive back to Gothenburg where you leave your car at the Volvo Factory Delivery Center and fly back home.
Family Fun In Sweden and Denmark (8 Days)
This trip combines the best of the other two family fun trips for the most memorable week of your lifetime. Toys, joys, animals, amusement parks, castles and the North Sea coast are just a part of this exciting itinerary. You'll see, experience and live all the best Scandinavia has to offer. When you're done simply leave your Volvo with our dedicated retailer in Stockholm.
Mythical Gripsholm, Magical Stockholm or Coast and Castles
Pressed for time? Try our 3-day trip to Stockholm or Gothenburg. Whichever destination you choose, you'll have the opportunity to visit historic castles, view breathtaking scenery and immerse yourself in Swedish culture and cuisine.
Go on a trip to Europe where your own custom built souvenir is part of a truly unforgettable experience.  Purchase a new Volvo via the Overseas Delivery Tourist Program and you will receive two complimentary, roundtrip flights to Europe on either Scandinavian Airlines (SAS) or British Airways (BA).*
This special offer also includes:
- One nights' hotel stay in Goteborg, Sweden (when taking delivery at the factory) *
- Shuttle service from Goteborg airport (when taking delivery at the factory)
- Access to SAS business lounges in the U.S. (only with SAS flights)

Are you curious about the weather in Sweden?  Do you need information on how to get a passport?  If you want to learn more about travel to Sweden give McDonald Volvo a call and we will send you a free brochure and details about your trip.
Would you like some travel ideas for Scandinavia? Are you traveling in the Fall, Winter or Spring?   Take a look at this year's travel offers below which provide a nice side trip to either London, England or Stockholm, Sweden.
Travel to Sweden by non US citizens, non Canadian citizens or non European Union citizens
Non US citizens, non Canadian citizens, or non European Union citizens traveling to Sweden MUST apply in PERSON for a visa at the Swedish Embassy.  Unfortunately if this applies to you there is nothing that can be done by Volvo to avoid this.